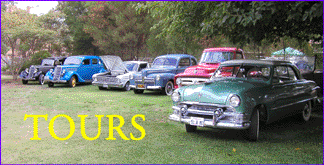 At least once a month, the San Diego Early Ford V-8 Club holds a TOUR.
This provides the opportunity for members to drive their V-8s or attend in a modern car.
These tours are to a variety of locations including local attractions and member's homes.
They are an excellent opportunity to talk about the cars and visit with friends.
2017 TOURS
For The Coming Year
Mark Your Calendar for These Tours:
December - Christmas Party, Coronado Golf Club, December 10th, 11:30 am

Send Check for $25.04 to Barbara Martin 1953 Powell Dr, El Cajon, CA IMMEDIATELY!


Coming Soon:

January 2018 - TBD
February - Big 3 Automotive Swap Meet, SDCCU Stadium (Qualcomm), February 23, 24 and 25. Possibly the final Big 3!



TOURS
Each month in the FORD FAN there will be the time, map directions and a phone
number to RSVP. If you have any ideas,suggestions or would like to help please call
Mike Petermann 916-479-3665

HOME