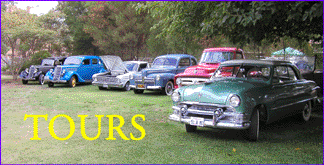 At least once a month, the San Diego Early Ford V-8 Club holds a TOUR.
This provides the opportunity for members to drive their V-8s or attend in a modern car.
These tours are to a variety of locations including local attractions and member's homes.
They are an excellent opportunity to talk about the cars and visit with friends.
2020 TOURS
For The Coming Year
Mark Your Calendar for These Tours:
May - All Ford Picnic, Santee Lakes, Sunday, May 3rd, CANCELLED due to Corona Virus
Coming Soon:

All tours CANCELLED due to Corona Virus

What Does RSVP Mean ?
Respondez s'il vous plait, a French phrase that translates to "please respond"
or literally "respond if you please" is a standard practice to reply to an RSVP
request whether confirming attendance or declining. Because the times are a
chang'in and the budget will be tighter this year, we request that you RSVP to
all tours. From a practical point of view, because we need to know how many
people to count on and how much food and drink to supply, there will be a phone
number for the monthly tour. Leave a message with your name and
how many will be in your group.

HOME