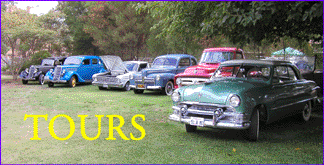 At least once a month, the San Diego Early Ford V-8 Club holds a TOUR.
This provides the opportunity for members to drive their V-8s or attend in a modern car.
These tours are to a variety of locations including local attractions and member's homes.
They are an excellent opportunity to talk about the cars and visit with friends.
2019 TOURS
For The Coming Year
Mark Your Calendar for These Tours:
November 11th, Veteran's Day Parade! Details Bob Brown, 619-690-6988
Coming Soon:


December 8th, Christmas Party at Coronado Cays Kingston Trinidal Clubhouse

51 Port of Spain Rd., Coronado CA 92118

$25.00 per person, RSVP at the next General Meeting or by emailing SRJV@pacbell.net or....

Call Susan Valentino at (619) 861-4630


TOURS
Each month in the FORD FAN there will be the time, map directions and a phone
number to RSVP. If you have any ideas,suggestions or would like to help please call
Mike Petermann 916-479-3665
HOME