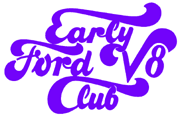 SAN DIEGO
Celebrating 54 Years!
1969 - 2023
EFV8 Club mailing address:

EFV8 Club RG 19
c/o Tim Shortt
1211 5th St.
Coronado, CA 92118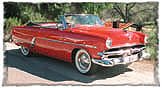 1932 Ford - 1953 Ford
"Restoring & Preserving 1932-1953 Ford Motor Company Vehicles"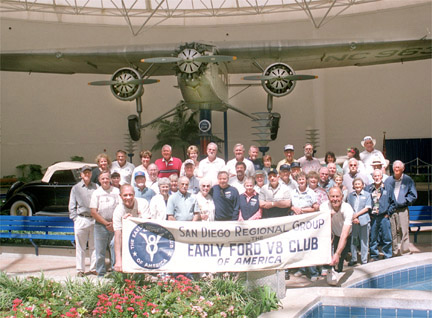 Club members at the San Diego Aerospace Museum,
formerly the Ford Building, built for the 1935 San Diego Exposition.
The San Diego Early Ford V-8 Club, Regional Group #19 of the Early Ford V-8 Club
of America, was formed in 1969 when 25 V-8 enthusiasts gathered at Antique Automotive.
These people decided to form a Regional Group and a Charter was issued
by the National Club in 1969 establishing the Group. Today, the Club has over 150 members
with over 300+ 1932-1953 Ford Motor Company vehicles,
ranging from show cars to unrestored "basket cases" waiting to be restored.
GENERAL MEETING
Third Wednesday
(Except December)
Auto Museum, Balboa Park, 7 pm
NOTE! The January meeting is a DAYTIME meeting at 10:00am in the Automobile Museum in Balboa Park on January 17th, 2024

NEW! Accessory Wish List Print and get to Rick Carlton
RG# 19 By-Laws
MEETINGS
TOURS
NEWSLETTER
MEMBER'S V-8s
MEMBER'S V-8s In Memoriam
MEMBERSHIP
RESTORATION GUIDE
OLLIE SMITH SCHOLARSHIP
FRIENDS OF THE CLUB (Links)
NEW! LINKS TO OTHER EARLY FORD V-8 REGIONAL GROUPS
Link to Woody's Car Event Calendar
Contact Us
Last Updated: 12/06/2023 Added 2024 version of membership application